Online SERP Tracker

Free rank tracker serptracker. Powerful reports and super suggestion keyword tool.
All Countries

All countries, languages, and search engines are supported, accurate results for your keyword position in Google, Yahoo and Bing. google rank check from anywhere.
Constantly Updating

SERP keyword tracker position ranking is constantly updating, not just once a day but more than 10 times a day, so you can monitor your rank closely.
Mobile rank checker

Check your keyword rank on the go or on your desktop as SerpToday is a responsive website supported by all devices. Free rank tracker
Volume and CPC

Great information about each keyword and how to optimize keywords, You can also get information about the monthly search volume, CPC and competition difficulty.
No credit card Needed

SerpTracker, No need for a credit card or PayPal account to use our service, you can register and use it directly as all the premium features are available to use in serp keyword tracker.
SERP Tracker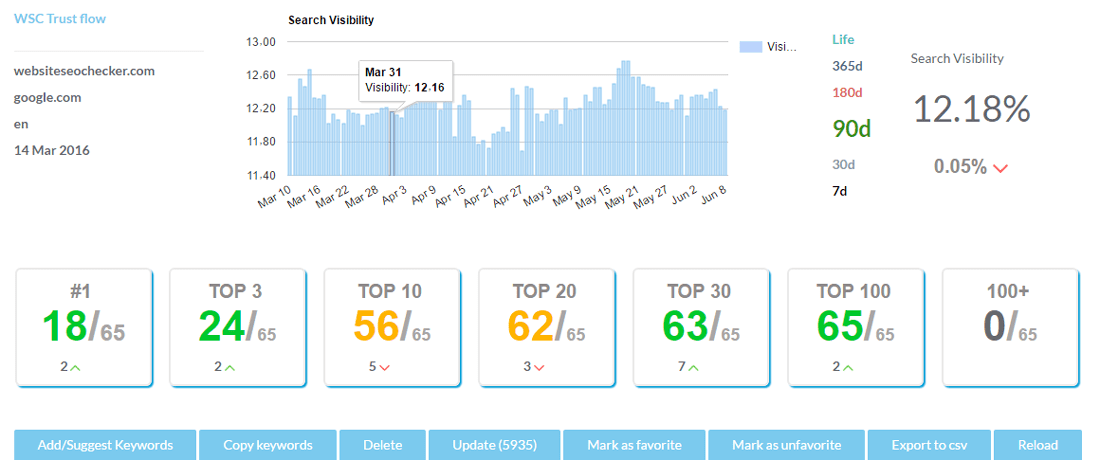 TRACK YOUR KEYWORD POSITIONS WITH SERPTODAY ONLINE SERP KEYWORD TRACKER - What's my SERP

Powerful Reports
SerpToday
Serp Tracker
is increasingly being used by SEO experts and webmasters for optimizing the websites in the most effective way possible. Keywords have a significant role in giving websites a reach to the international audience these days. People across the world make use of search engines to they need or research products before buying them. They enter keywords on search engines like Google and these are the keywords that Search engine optimization (SEO) specialists must optimize for a website to show up at the top in the search engine results.
Rank Tracker API
lets you know your website's overall performance on all the leading search engines as well as some small ones too. This enables you to develop your website and improve it for all the search engines.
google SERP tracker equally lets you spot your website's rank against a keyword or lots of keywords on domains of various search engines.
Google USA SERPs
are the most effective tools when you need to get an overview of a website's performance with regards to keywords. They work fast and in a flash you will be able to track not only the present but also past performance of your site and keywords as well.

Yahoo rank tracker
At the core of any SEO campaign is rankings. Anything we do for our clients is intended to boost rankings in the leading search engines, like Google, Bing, and Yahoo. After primary and secondary keywords are determined for each page, the following step is to take a shot of where the pages are ranking for those keywords before any
Bulk Keyword Rank Checker
. This provides us a baseline measurement to present to with our clients. So, immediately the work starts, we depend on a ranking checker to assist us each keyword's advancement at key points during the campaign.
Albeit the process could be carried out manually, choosing a keyword rank checker will save time and resources. While we utilize an advanced SEO rank checker in an effort to give our clients an extensive snapshot of how their rankings have grown over time, there are numerous free online rank tracker that will make available to you the basics.

URL rank tracker
SerpToday tracker is an excellent tool that you can use to check Google ranking for your website. It enables you to easily search all the keywords in your META keywords tag, so you won't have to input the keywords you want to search all the time. Rather, you just enter the URL and click search.
Whatever a search engine optimization strategies is , its ultimate goal is to ensure that the website gets noticed by the search engines and this eventually reward you by placing your site on top of the ranks on the search engine results page. Being on the first page of the search results, being the top spot on the list is the fundamental aim of all online marketer people since it is the factor to driving sufficient traffic to one's website and more traffic implies more opportunities for conversions.
Track keyword position and SEO competitors ranking
One of the most powerful and popular keyword tracking tools in the market, SERP Tracker is the ideal tool for those who need something fast, simple and cost-effective to track keyword rankings to increase traffic to their websites. This tool covers all the search engines and allows tracking keywords by city, country and even zip codes. It delivers accurate tracking results to give you the exact keyword search volumes as seen by users. it offers an intuitive and easy-to-use interface that gives you quick access to what you are looking for. It facilitates keyword monitoring for a better client management. You can tag and group keywords to categorize your clients. It also lets you create quick shareable reports for keyword performance.
An amazing feature is the customized Alerts. You can receive on-demand updates on keyword rankings, get notified by email as your keyword leaves or enters a specified position, view the quick summary of keyword performance when notified by the green button and receive automatically updated rankings every two hours. We offer a simple API which can be easily integrated into any application. You can use scheduled automatic reports to be sent out to clients and interested parties to keep them updated on the live keyword performance without having to spend time.
Free trial after which you can switch to one of the five monthly/yearly plans starting at $16 per month for newbies, allowing 50 keyword tracking. There are many other keyword tracking tools in the market that provide powerful tracking functionality with a number of additional features and reasonable pricing options. Today, we consider the five best features worth giving a try.
Accuracy
An all-in-one SEO toolkit that offers much more than just keyword tracking, it enables a complete control over one's rankings with its powerful Rank Tracker tool. It helps you understand what is going on with your website rankings in real time. You can track rankings globally with Google, Bing and Yahoo and even check local and country-specific search engines. Instant ranking updates provide real-time information without having to wait. In addition to keyword rankings, Rank Tracker lets you identify the keyword opportunities with important metrics like search volume, total results, KFI, CPC, etc. You can also create targeted sets of keywords for your SEO campaigns using this tool. You get a complete picture of your website progress with the dynamic rank changes for a selected timeframe.
The full package cost starts at $30 per month, allowing five campaigns. Other bigger and cost-effective packages are available to choose from. Access to a large number of tools and functions in addition to keyword tracking is what makes a great alternative to seo serp tracker.
Tracking updates
Rank Tracker from Link-Assistant is another perfect alternative to google serp tracker as it offers a powerful keyword tracking and rank monitoring service for a reasonable price. It is a customizable tool that lets you track positions globally with Google as well as locally with any of the 400 search engines supported. You can choose to check the top 50 or top 1000 results, run the check once a week or thrice a day, track competitors' positions and monitor Map and Universal listings. The best thing about Link-Assistant's Rank Tracker is that everything is unlimited. You can accurately track positions for any location anywhere in the world. This service integrates some of the most powerful keyword tools into a single package to help you find the right keywords for successful SEO without having to spend your valuable time and effort. The tool also generates customizable, white-label reports which are quick and easy to share with clients. You can even schedule report creation and sharing.
What makes Rank Tracker from Link-Assistant a great alternative to serp tracker tool is its free usage. You can download the tool for keyword monitoring and research for free and use it for the lifetime without having to pay anything.
Countries and Languages
Another free keyword rank checker tool, is designed to batch check keyword positions automatically to save time and effort. It helps you track keyword ranking and performance on multiple search engines including Yahoo, Bing, Google, AOL and Ask. Moreover, the tool also allows keeping SEO notes and monitor how your keyword position improves with the SEO efforts. It even facilitates creating keyword position reports in a variety of formats. keyword ranking checker also updates keyword ranking information at system startup or on scheduled time. You can also view detailed keyword ranking history across different search engines and export the keyword ranking reports into multiple formats for sharing.
You can simply download the software and start using it for free to check your keyword rankings and improve the performance. While SERP Tracker tool comes for a price, delivers all the keyword rank checking features at no cost and this makes it a worthy alternative to SERP Tracker.
Serp Tracker
A powerful keyword ranking tool available as a complete SEO package, SE Ranking provides numerous other features apart from rankings. The tool offers a user-friendly interface to make it easy performing keyword rank checks. It works concisely regardless of the number of keywords. It provides up to date information about keyword rankings in an easy to format. You get the ability to track multiple search engines and locations. You can also keep track of up to five competitors in your website niche.
The SE Ranking Rank Tracker tool offers a free trial and comes with flexible pricing to choose the package that fits your requirements. Packages start at $4.2 per month. This low-cost tool with powerful keyword tracking capability is definitely a great alternative to SERP Tracker.
Reports
One of the oldest keyword rank trackers in the market, specializes in providing accurate information to make smart rank tracking simple. The tool offers a powerful rank tracking functionality with an attractive and intuitive interface that makes it easy staying updated on your keyword rankings. White Label technology enables you to customize the tool and embed it in your existing SEO software for a seamless experience. You can create custom notification rules to get contacted whenever important changes occur in the rankings. Flexible reporting feature lets you generate and schedule reports in a variety of formats to share the keyword performance with others.
rank tracking tool is available for a free trial. Subscription to the service costs $10 per month for 100 keywords. You can select higher packages according to your requirements. Serpfox is a recommended alternative to SERP Tracker as it costs lesser and provides access to powerful features for effective keyword rank tracking and successful SEO.
We hope our list of the top five SERP Tracker Alternatives would help you find better options to track your keyword rankings on search engines to boost your website visibility. There are many other keyword rank tracker tools and more to consider. If you have tried any of these tools or use other powerful tools for keyword rank tracking, do let us know in the comments section below. We would love to hear from you!..