Rank Tracker

Free rank tracker serptracker. Powerful reports and super suggestion keyword tool.
All Countries

All countries, languages, and search engines are supported, accurate results for your keyword position in Google, Yahoo and Bing. google rank check from anywhere.
Constantly Updating

Serp Keyword position ranking is constantly updating, not just once a day but more than 10 times a day, so you can monitor your rank closely.
Mobile rank checker

Check your keyword rank on the go or on your desktop as SerpToday is a responsive website supported by all devices. Free rank tracker
Volume and CPC

Great information about each keyword and how to optimize keywords, You can also get information about the monthly search volume, CPC and competition difficulty.
No credit card Needed

SerpTracker, No need for a credit card or PayPal account to use our service, you can register and use it directly as all the premium features are available to use in serp tracker.
Free rank tracker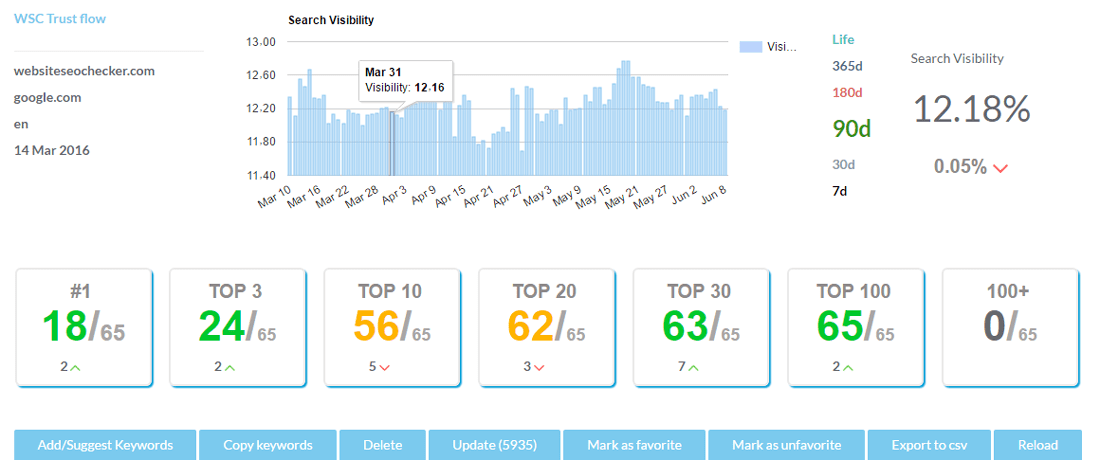 TRACK YOUR KEYWORD POSITIONS WITH SERPTODAY SERP TRACKER - What's my SERP

Powerful Reports
SerpToday
Serp Tracker
is increasingly being used by SEO experts and webmasters for optimizing the websites in the most effective way possible. Keywords have a significant role in giving websites a reach to the international audience these days. People across the world make use of search engines to they need or research products before buying them. They enter keywords on search engines like Google and these are the keywords that Search engine optimization (SEO) specialists must optimize for a website to show up at the top in the search engine results.
Rank Tracker API
lets you know your website's overall performance on all the leading search engines as well as some small ones too. This enables you to develop your website and improve it for all the search engines.
SERP tracker equally lets you spot your website's rank against a keyword or lots of keywords on domains of various search engines.
Google USA SERPs
are the most effective tools when you need to get an overview of a website's performance with regards to keywords. They work fast and in a flash you will be able to track not only the present but also past performance of your site and keywords as well.

Yahoo rank tracker
At the core of any SEO campaign is rankings. Anything we do for our clients is intended to boost rankings in the leading search engines, like Google, Bing, and Yahoo. After primary and secondary keywords are determined for each page, the following step is to take a shot of where the pages are ranking for those keywords before any
Bulk Keyword Rank Checker
. This provides us a baseline measurement to present to with our clients. So, immediately the work starts, we depend on a ranking checker to assist us each keyword's advancement at key points during the campaign.
Albeit the process could be carried out manually, choosing a keyword rank checker will save time and resources. While we utilize an advanced SEO rank checker in an effort to give our clients an extensive snapshot of how their rankings have grown over time, there are numerous free online rank tracker that will make available to you the basics.

URL rank tracker
SerpToday tracker is an excellent tool that you can use to check Google ranking for your website. It enables you to easily search all the keywords in your META keywords tag, so you won't have to input the keywords you want to search all the time. Rather, you just enter the URL and click search.
Whatever a search engine optimization strategies is , its ultimate goal is to ensure that the website gets noticed by the search engines and this eventually reward you by placing your site on top of the ranks on the search engine results page. Being on the first page of the search results, being the top spot on the list is the fundamental aim of all online marketer people since it is the factor to driving sufficient traffic to one's website and more traffic implies more opportunities for conversions.
Track keyword position and SEO competitors ranking